Penny Power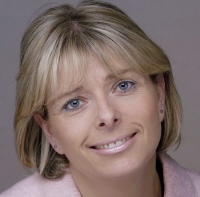 At 18, Penny Power took a temporary job working in a telesales department. It was not an auspicious beginning. "I spent three weeks applying lipstick to give me confidence before each call, my lips grew but my confidence reduced, I was pretending to talk to customers at the end of the phone when I cold called, it was alien to my personality. Then one day a poor unsuspecting prospect actually had to talk to me. I apologized for disturbing him, sympathised with the fact that he had a sore throat and said I would ring him another day. At lunchtime, I went to buy my sandwich and saw some Tunes (cough sweets) on the counter. I bought them and sent them to 'the poor man on the phone' wishing him a speedy recovery. Three days later he phoned in to place a huge order." Penny learnt that, if you create the right environment and are a giving person, you can receive, rather than having to ask. From then on, she built her career through her relationships and her attitude of caring for others, whether they were staff, suppliers, customers or colleagues.

In 1998 Penny came up with the idea of Ecademy a Social Business Network to connect business people for learning, career and business development. Glenn Watkins joined Penny right at the beginning becoming Chief Executive in 2001. Glenn built the business whilst Thomas Power took over as the front person for Ecademy. Penny spent time bringing up the children, remaining in the background of Ecademy, but always watching and contacting members. In 2005, when her children were 13, 11 and 8, Penny returned to the forefront of Ecademy, hosting the monthly London meetings and heading an Asian tour meeting Ecademy members in Kuala Lumpur, Singapore, Jakarta and Bali. Penny still combines her work life with her family life – the children are very involved in the business and know many of the members, and they also traveled with Penny during her 2005 tour.

Penny has also been developing her thinking around Emotional Wealth with a view to helping more Ecademy members discover their true passion and to communicate it effectively to achieve real network value.