City of Lucerne
The European Futurists Conference Lucerne takes place in the centre of Europe, in the heart of Switzerland.
Lucerne is the capital of the Canton of Lucerne and in many respects the most important city in Central Switzerland. It is the cultural hub of the region and the fourth most populous Swiss agglomeration. Lucerne owes its development firstly to its geographical location on the important north-south transport axis, sandwiched between the Swiss Plateau and the Alps at the threshold of Central Switzerland, and secondly to the uniquely picturesque scenery.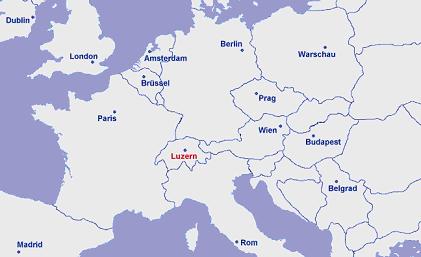 Get there by airplane
The international airports in Zurich, Basel and Geneva are only a short trip by car to Lucerne, and are also well connected with direct fast trains.

By train
Lucerne is situated on the most important route running from north to south and is connected with the Swiss railway network. Direct fast trains link Lucerne to the international airports in Zurich, Basel and Geneva.
www.sbb.ch
By car
An excellent network of fully developed freeways links Lucerne to all of the most important centers of Switzerland and abroad.
www.map24.com